Hey shayari lovers!
Today I'm going to share with you Very Sad Shayari which are totally unique and rare.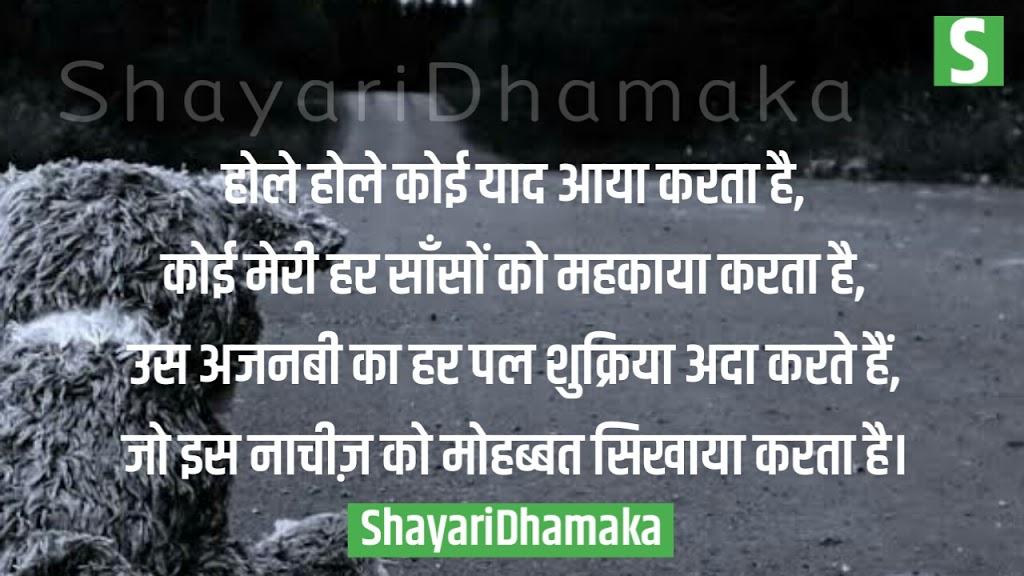 होले होले कोई याद आया करता है,
कोई मेरी हर साँसों को महकाया करता है,
उस अजनबी का हर पल शुक्रिया अदा करते हैं,
जो इस नाचीज़ को मोहब्बत सिखाया करता है।
Hole hole koee yaad aaya karata hai,
koee meree har saanson ko mahakaaya karata hai,
us ajanabee ka har pal shukriya ada karate hain,
jo is naacheez ko mohabbat sikhaaya karata hai.
---
दिल मे आरज़ू के दिये जलते रहेगे।
आँखों से मोती निकलते रहेगे।
तुम शमा बन कर दिल में रोशनी करो।
हम मोम की तरह पिघलते रहेंगे।
Dil me aarazoo ke diye jalate rahege.
aankhon se motee nikalate rahege.
tum shama ban kar dil mein roshanee karo.
ham mom kee tarah pighalate rahenge.
---
प्यार में मौत से डरता कोन है ।
प्यार हो जाता है करता कोन है।
आप जैसे यार पर हम तो क्या सारी दुनियां फिदा है।
लेकिन हमारी तरह आप पर मरता कौन है।
Pyaar mein maut se darata kon hai .
pyaar ho jaata hai karata kon hai.
aap jaise yaar par ham to kya saaree duniyaan phida hai.
lekin hamaaree tarah aap par marata kaun hai.